Mocha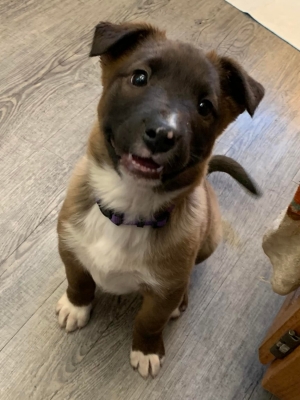 Name: Mocha
Sex: Female
DOB: November 5, 2021
Weight: 5.3 kg
Spayed/neutered: Not old enough at this time
Up to date on age appropriate vaccinations: The initial DA2PP vaccine has been given, but she requires boosters at 12 and 16 weeks of age.
Kennel trained: In progress. She does not like to be left alone so still barks in her kennel.
House trained: In progress. She has been using pee pads because it has been too cold to attempt training outside on a regular basis
Best breed guess: Mix breed. Will be medium to large breed. You can see the mother's picture for reference but father is unknown.
Being fostered in: Farm outside of Weyburn
Adoption fee: $350 ($100 refund once proof of spay/neuter between 6-10 months of age)
Good with dogs: Is currently living with sister. Has met other dogs on farm but she wants to play and jump all the time so will need more socialization to continue to learn manners and cues. She is not aggressive, just very playful.
Good with cats: Has been introduced to many cats. She does want to chase the cats that run away so I recommend a supervised introduction. Again, she's not mean, but is very playful.
Good with kids: She has been around my children but she has very sharp teeth that like to chew on toes and fingers. She needs continued training to take treats more gently and to prevent jumping up.
Mocha is independent and confident but still loveable and cuddly. She came into my home and right away made herself at home. She has lots of energy and is always looking for another adventure. She loves people and wants to be wherever you are. She reminds me of my one year old child right now, as I follow her from room to room making sure her mischievousness doesn't get her in trouble. Her little mind is so trainable right now though and she has so much potential. She will be a dog that can keep up on all those hikes and walks you want to go on.
Mocha is available for adoption on January 14, 2022. Applications can be found on our website here.