Delphi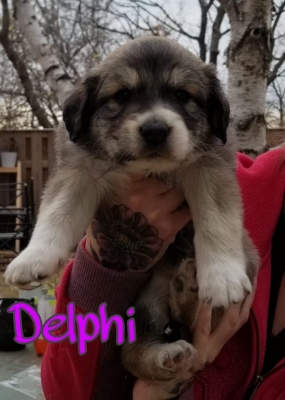 Name: Delphi
Age: 6 weeks
Weight:8lbs
Spayed/neutered: not yet
Up to date on age appropriate vaccinations: yes
Kennel trained: not yet
House trained: using pads
Best breed guess: valley bully /Pyrenees
Being fostered in: weyburn
Adoption fee: $350 ($100 refund once proof of spay/neuter between 6-10 months of age)
Good with dogs: yes
Good with cats: yes
Good with kids: yes
When Delphi and her litter mates arrived she was the most aloof. She slept away from her litter mates, she didnt want to be touched. After about 6 days or so. She turned a corner.
She now loves her humans, she will come running from afar when you call her name. She loves to play. She is quiet, and calm confident!
Delphi is available for adoption Oct 27th, but we are currently accepting applications now. Applications can be found on our website here.