Leonardo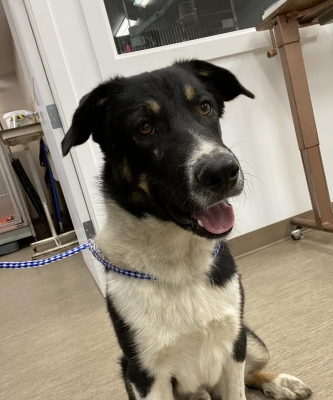 Name: Leonardo
Age: 7 months
Weight: 50 lbs
Spayed/neutered: Yes
Up to date on age appropriate vaccinations: Yes
Kennel trained: Yes
House trained: Yes
Best breed guess: Border Collie mix
Being fostered in: Weyburn
Adoption fee: $350
Good with dogs: Yes, is timid at first.
Good with cats: Yes and Bunnies too!
Good with kids: Yes but is very young still and will need some more work on proper manners.
Leo is the most versatile puppy I have ever met. He was thrown right into our busy end of summer routine and caught onto the day to day schedule very fast. Leo is very much still a puppy with a super mouldable brain. He is very food motivated and is super eager to learn anything and everything. He would excel with a family that wants to pursue dog sports, trick titles, or wants a running/hiking partner.
Being the typical puppy Leo loves to play and wants to explore everything! Although he doesn't quite understand how to play with toys, but his foster brothers are working on that. Leo wasn't used to being in a house prior to his foster home so sometimes normal house hold noises are still a little concerning to him but he's quickly realizing it's a pretty awesome deal.
Applications can be found on our website here.