Cleo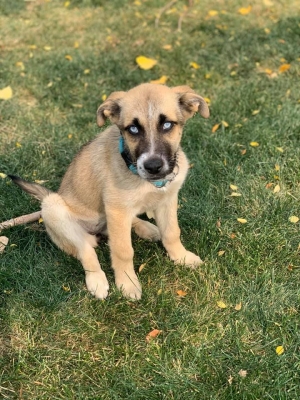 Name: Cleo
Age: 10-12 weeks old
Weight: 6.4 kg
Spayed/ Neutered: Not yet, too young
Up to date on age appropriate vaccines: yes
Kennel trained: yes
House trained: for the most part yes, still a couple accidents from time to time.
Best breed guess: Shepherd/Husky/Pittie Mix
Being fostered in: Regina
Adoption fee: $350
Good with dogs: yes
Good with cats: unsure
Good with kids: yes, she is very gentle and has been around small children
Available for adoption September 27, 2020 but currently accepting applications now
Cleo is a very sweet puppy who gives lots of love. She is pretty calm for a puppy and just wants to snuggle. She loves to chew on bones and will steal your shoes if you're not looking.
She is very food motivated and has caught on to basic commands quickly. She knows to sit, lay down, and come to her name now. She is a very smart pup and is learning more day by day. She gets along well with other dogs and loves to snuggle up to her foster sister. She's quite good on a leash but sometimes doesn't like it as she likes to explore her surroundings. Cleo will make a great addition to any family who will give her lots of love and attention.
Cleo will be available for adoption September 27th and applications are currently being accepted. Applications for Cleo can be found here.