Magnus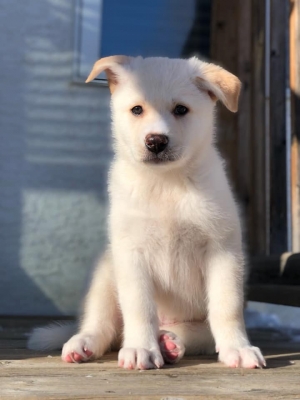 Gender: Male
Age: 7 weeks -Jan 7th
Weight: 14lbs
Spayed/neutered: Not old enough yet
Up to date on age appropriate Vaccinations: 1st set will be on March 1st
Kennel trained: Working on it
House trained: Working on it
Best breed guess: Husky mix
Being fostered in: Regina
Adoption fee: $300, $100 refunded upon proof of neuter
Good with dogs: Yes
Good with cats: Unknown
Good with kids: Yes, but can get nibbly
Magnus and his momma Adira, came to us when he was less than 1 week old. Adira had given birth outside in the frigid winter temps, and our strong little man was the only 1 of the litter to survive.Alot has changed in the last 6 weeks!

This big guy not only survived, but he is doing amazing! He has grown so, so much, learned to walk, go up the steps, going down however, well that is still a work in progress! Potty training is in the works, but he will stop playing to go to the pee pads, most of the time! He has even started taking cues from the others and scratches at the back door to let us know he needs to go out!
Magnus is going to need a family that is willing to work with a puppy this young. He is very sweet, smart, energetic, but is also a 7 week old pup who gets so excited about the world and tends to forget some of the manners he is learning. He loves his chew toys, and they are a great distraction when he gets a little too nibbly. When he has had enough of playing, Magnus loves a little down time as well. Especially if it involves being wrapped in a blanket and snuggled up close to his people. He has even put himself back to bed in his kennel after a good play session. If you think Magnus sounds like a good fit for you, he would love to meet you and share some of that puppy breath!
Magnus is available for adoption March 4th but we are currently accepting applications. Applications can be found here.