Sly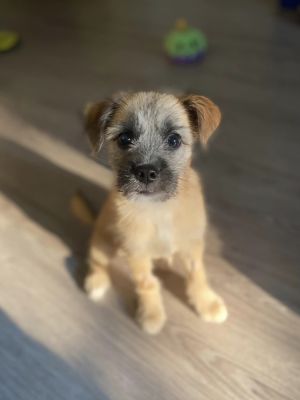 Name: Sly
Age: 11 weeks
Weight: 5lbs
Spayed/neutered: Too young
Up to date on age appropriate vaccinations: Yes
Kennel trained: Almost!
House trained: Almost!
Best breed guess: Small breed terrier x
Being fostered in: Regina
Adoption fee: $350 ($100 refund once neutered)
Good with dogs: Yes, but likes to play rough and is very tenacious so not suitable for older dogs or those who require space.
Good with cats: Unknown but same rules apply as for dogs.
Good with kids: Unknown but safe to say yes. He is still very nippy so maybe not suitable for small children.
Sly is one of our parvo survivors! Named after Sylvester Stallone, this little fighter is full of self confidence and bravado.
Sly has been working hard on manners and house/kennel training and is doing really great in the short amount of time he's been in our care. He's a very smart pup and shows strong focus while training. He is an excellent sport dog prospect!! He is sleeping through the night and already signalling when he needs to outside. Like all puppies, he is very mouth and loves to use his teeth! He still needs work on directing to more appropriate targets for those little daggers!!
Sly will receive his first set of vaccinations on the 19th and will be available to join his family the day after!!
Sly is available for adoption on Sept. 20th but we are currently accepting applications now. Applications can be found on our website here.