Lizzie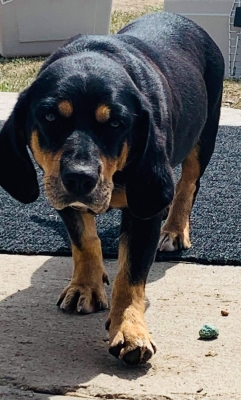 **Applications for Lizzie are now closed**
Name: Lizzie
Age: 3
Weight: 22 lbs
Spayed/Neutered: Yes
Up to date on age appropriate vaccinations: Yes
Kennel Trained: No, she is quite scared of the kennel, she is used to being on the farm and having all the freedoms in the world! She would need to learn very slowly that the kennel is a safe place. She is not used to a confined space.
House Trained: She is, but these last few weeks she has been running free outside on our farm so there will be an adjusting period I'm sure! Working on it until she goes to her forever home though!
Best Breed Guess: Basset Hound/Lab
Being fostered in: Weyburn
Adoption fee: $350
Good with dogs: Yes, she is constantly around other adult dogs and fit in well!
Good with cats: Unsure
Good with kids: Yes
Lizzie is such an amazing dog. There is no possible picture to show just how small she actually is! She has a great temperament and is such a fast learner.
She is the queen of snuggling and will drop immediately to her back if you bend to pet her!
I do believe she would do well in a home with other dogs. She thrives with her fur friends!
She will be missed big time at our home as she fit in so well with our family and lifestyle!
Applications for Lizzie can be found on our website here.