Heidi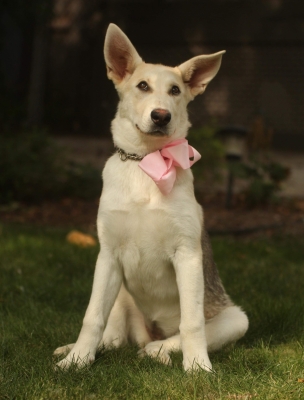 Name: Heidi
Age: 5 months
Weight: TBD
Spayed: Not yet
Kennel trained: Getting there! I can sleep all night in my crate without waking up the hoomans but sometimes cry if I'm left alone. My foster mum is teaching me being calm and quiet results in many delicious treats!
House trained: Yes! My foster mum calls me a "model dog doodoo citizen"
Best breed guess: Husky/German Shepherd mix
Being fostered in: Regina, SK
Adoption fee: $350 ($100 refund once proof of spay between 6-10 months of age)
Good with dogs: Yes – big dogs, if possible! My foster hoomans have 2 small 'hot dogs' that find me too much of a good thing sometimes (well, all the time, but that's just their opinion).
Good with cats: Maybe. The orange hissy thing probably disagrees. No harm, no foul, though right? I still need to work on ignoring the hissy thing instead of running up to it wanting to play, but they say I've got potential!
Good with kids: Yes! Before my foster hoomans picked me up, I was being "puppysat" by another former foster for a few hours, whose kids had fun playing with me in their backyard.
Hi, hi, hi! My name's Heidi! Nice to meet you! I'm a 5-month-old "random" breed that may be part German Shepherd, part Husky and who knows what else! But what I do know is I've come a long way to find a new family! Maybe that family's YOU? Oh, oh, please pick me! I'll be a good girl, I promise!
As a young pup, I used to roam around "The Call of the Wild" style until I was found by a caring hooman and taken to the city. Life as a city girl is fun! There are so many interesting sounds and smells! Despite that, I know outside is where the 'business' is done and inside is where we have all the fun!
My foster hoomans tell me I'm a good girl every day. I've learned to sit, (mostly!) walk on a loose leash and to patiently wait for delicious yummy treats! I love learning new things and hope someone will help me learn even more! Maybe that someone's YOU? Oh, boy, oh boy, I hope so! I've still got to grow into my 'donkey ears' - but by the time I do, there'll be more of me for you to love!
I've started to enjoy car rides, so if you're looking for a bff who'll be there wherever life takes you, I'm your girl! I don't mind little hoomans, either. I love to play, too! If you've got another big pup (or two – the more the merrier!) I'm ALL IN! So, whaddya say? Why don't you see for yourself what a good girl I am?
See you soon! -Heidi
Applications for Heidi can be found here.