Simon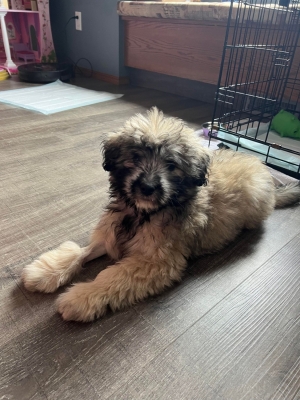 Name: Simon (male)
Age: 12.5 weeks old (June 15/23)
Weight: 7.5 lbs
Spayed/neutered: not old enough
Up to date on age appropriate vaccinations: Yes
Kennel trained: working on it
House trained: working on it
Best breed guess: terrier mix (mom is a terrier mix approx 20-25 lbs, below the knee. Dad unknown
Simon is guessed to be small to medium in size
Being fostered in: Weyburn Sk
Adoption fee: $350 ($100 refund once spay/neutered)
Good with dogs: yes
Good with cats: hasn't been exposed to them since being in our care but assuming he would be fine
Good with kids: yes, currently being fostered in a home with kids aged 2.5, 5 & 7.
Keep in mind that puppies always need supervision and nap often or they can get nippy and they have shark teeth!
Simon is one of our parvo survivors! (All 7 pups from this litter ended up with parvo)
Simon is such an adorable fluff ball! I promise as soon as you hold him, your worries are sure to disappear;)
Simon is a great mix of playful & chill. He loves to play with his toys and run after his ball but he also is content sprawled out on the floor when his people are relaxing.
Simon loves his people and is often their little shadow.
Simon is available for adoption on September 23rd but we are currently accepting applications now. Applications can be found on our website here.