Rosie Rae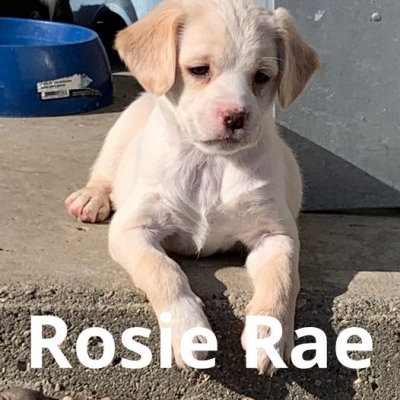 **Applications for Rosie Rae are now closed**
Name: Rosie Rae
Age: 6 1/2 Weeks
Weight: 5 lbs 9 oz
Spayed/neutered: No
Up to date on age appropriate vaccinations: Yes
Kennel trained: No
House trained: No
Best breed guess: Basset Hound/Lab Mix
Being fostered in: Weyburn
Adoption fee: $350 ($100 refund once proof of spay/neuter between 6-10 months of age)
Good with dogs: Yes
Good with cats: Yes
Good with kids: Yes
Info on Rosie Rae: She is one of the tallest of the bunch with a very slim build. High energy this girl but rarely barks. She's got such fine feminine features on her and she is one of my childrens favorites. She is used to numerous adult dogs other than mama and she gets man handled daily by three young children under 8 so she is very good with children.
Rosie Rae is available for adoption April 24th but we are currently accepting applications now. Applications can be found on our website here.