Nala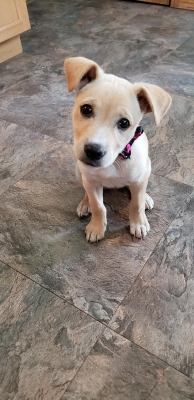 Name: Nala
Age: 10-12 weeks
Weight: approx 10 pounds (will be med/large size once fully grown)
Spayed/neutered: not yet
Up to date on age appropriate vaccinations: Yes. She will need follow up vaccinations as she grows.
Kennel trained: Nala does great, happily goes into her kennel for treats, cries for a minute or two and sleeps there for naps and through the night.
House trained: doing well but needs consistency and reinforcement. Will take some time to fully get there but has had a good start on learning.
Best breed guess: Labrador Terrier x
Being fostered in: Regina, Sk
Adoption fee: $350 ($100 refund once proof of spay/neuter)
Good with dogs: Yes, gets very excited when close enough to play!
Good with cats: unknown
Good with kids: she does well with older kids, a bit unsure of younger children (approx under 5 years). Will need some guidance to continue learning good puppy manners.
Nala is a bright puppy with a big personality, filled with curiosity! She is going to make a lucky family very happy!! She's loves to eat and gets distracted by food when learning!
She's doing great with kennel training, general manners and learning the rules of the house. She is working hard at house training. Nala loves to be with the family people and loves to curl up in your lap. Nala is looking for a family that will continue patiently with her training and provide lots of positive reinforcement.
Nala is available for adoption September 15th but we are currently accepting applications now. Applications can be found on our website here.