Ivy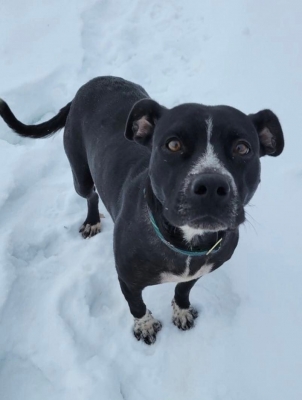 Name: Ivy
Age: Unknown. Best guess is 2 years
Weight: 19.4 kg
Spayed/neutered: Ivy will be spayed on February 17, 2023
Up to date on age appropriate vaccinations: Yes
Kennel trained: Yes
House trained: Yes.
Best breed guess: Mixed Breed
Being fostered in: Weyburn
Adoption fee: $350
Good with dogs: Yes, but can not share food or eat close to another dog or cat as she has shown food aggression. She has zero food aggression towards humans
Good with cats: Yes
Good with kids: Yes
Ivy is a beautiful, kind and gentle dog. I have been fostering her since November and I still don't quite know if I've seen her true personality. Ivy was a great mother to 10 puppies that were born the beginning of December, but I think living as a stray and becoming a Momma so young has robbed her from knowing how to be a puppy. It is only now that I'm seeing the puppy prance and the gentle feel of her mouth on my hand as she pretends for just a second to play fight. Ivy never jumps up but instead will sit and scoot closer and closer til she's practically sitting on your feet. She is extremely gentle with my two young children (6 and 2 years) and will slide in for a hug and a quick lick of their hand. She doesn't seem to mind the giggles and screams as she watches them quietly, but not fearfully. My children have been taught to be gentle with Ivy and to giver her space. Ivy does fear some men. She will go to my husband but avoids my 18 year old son. My son was once innocently twirling around a water bottle and Ivy almost melted into the floor. Something in her past has made her fearful of certain people and I know she would run away if not treated properly. She is currently allowed to run around on my farm without a leash but I had to bond with her first.
Ivy is independent and will often put herself to bed in her own room. She loves people and food. She may counter surf if not monitored during meal times.
Ivy is available for adoption once she is fully healed from her spay surgery on February 17, but we are currently accepting applications now. Applications can be found on our website here.