Hardy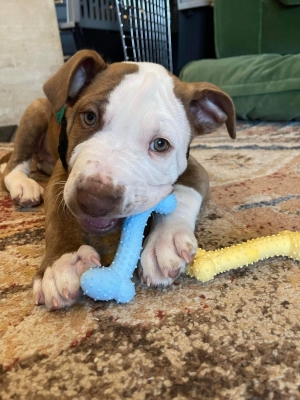 Name: Hardy
Age: 9.5 weeks (Sept 16/21)
Weight: 13 lbs
Spayed/Neutered: too young
Up-to-date on age appropriate vaccinations: yes
Kennel trained: almost there
House trained: working on it
Best breed guess: pitbull cross
(Mom is a pitbull, Dad mixed breed)
Being fostered in: Regina
Adoption fee: $350 ($100 refunded once proof of spay/neuter between 6-10 months of age)
Good with dogs: yes, he's being fostered with two big dogs
Good with cats: hasn't met but is friendly to all!
Good with kids: yes
Hardy is being fostered with his brother Luke. He's the shyer one of the two boys but is always up for a bit of rough housing when the time calls for fun! He is doing great in the kennel, only waking up once a night to go outside and is quickly catching on to potty training. He is trying his very best and loves the attention and affection he receives when he's done a good job.
Hardy has a heart murmur (grade 4) We can provide further information once an application is submitted.
Hardy is currently available for adoption. We are accepting applications on our website here.