Sprout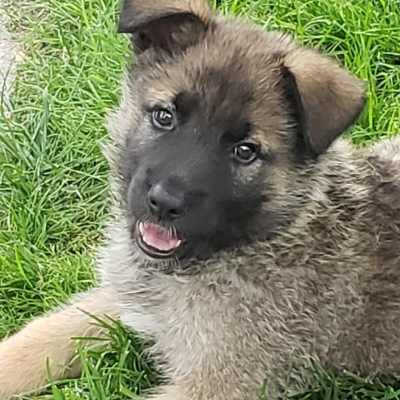 Gender: Female
Age: 7 weeks (June 5, 2019)
Weight: 3.8 kgs. / 8.4 pounds
Spayed: too young
Up to date on age appropriate vaccinations: Yes
Kennel trained: Working on it.
House trained: Working on it
Best breed guess: Shepherd X
Being fostered in: Regina
Adoption fee: $300 ($100 refund upon proof of spay)
Good with dogs: Yes
Good with cats: Yes
Good with kids: Yes
Sprout has received her first set of vaccinations, been microchipped, dewormed and treated with Revolution. She has a very calm and serene personality. She is a typical puppy though and loves to frolic and play. She has a little hop/run thing she does which is very cute. She likes to go after the ankles but is easily distracted with a bone or toy. She doesn't seem to care much for kibble and mostly eats can or raw food. Sprout is being fostered with another dog and multiple cats. She loves being outside in the shade. She doesn't seem to mind the water and will go into the kiddie pool to cool off.
Prairie Sky Dog Rescue is currently accepting applications now as Sprout can go to her new home on August 6th.
Applications can be found here.