Dickens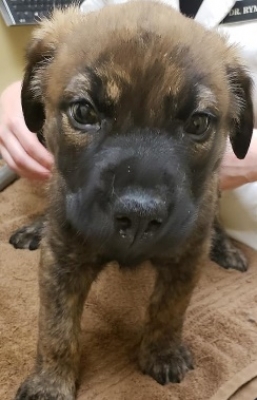 Age: 6 weeks (male) Birthday November 24, 2019
Weight: 5.1kg/11lbs
Spayed/neutered: Too young
Up to date on age appropriate Vaccinations: Yes
Kennel trained: Working on it
House trained: Working on it
Best breed guess: Pitbull / Shepherd X
Being fostered in: Regina
Adoption fee: $300 with $100 refund upon proof of sterilization
Good with dogs: Yes
Good with cats: Yes
Good with kids: Yes
Available for adoption: January 24, 2020
Dickens with his litter mates, Christie, Bronte, Poe, J.K & Conan came into the care of Prairie Sky Dog Rescue at 3 weeks of age with their mother Tiger. They are all social and playful pups. They have been dewormed, treated for parasites, received their first vaccinations and microchipped.
Dickens is the second largest of his litter at 5.1 kgs / 11 lbs as of January 5th. He has darker coloring and markings than his siblings. Dickens looks like a little bear and loves to roll onto his back for belly rubs. His diet consists of raw food and bones, can puppy food, puppy kibble, and various treats.
Applications for Dickens can be found here.