Viv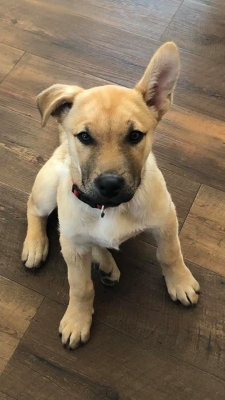 Name. Viv
Age. 11weeks
Weight. 20.5 lbs
Spayed. Too young
Up to date on age appropriate vaccinations. Yes Oct 27, next due 3-4 weeks.
Kennel trained. Yes
House trained. Working on it, doing very well.
Best breed guess. Pitbull Shepard mix
Being fostered in. Regina Beach
Adoption fee. $350
Good with dogs. Yes
Good with cats. Not exposed to cats
Good with kids. Great with kids.
Look out world, here comes Miss Viv.
She is a strong and determined little girl. She is vocal and loves to chat up a storm during play time and can be quite dramatic about it. She forgets her teeth are very sharp but loves to chew on things. She also likes to dig for treasures and attack any unsuspecting stray stick. She has a ton of energy! In true puppy fashion she plays hard and crashes hard. She will be a very loyal dog and always wants to be close to her humans. Usually you can find her resting right at your feet. Viv loves to cuddle too! She has learnt sit and has very good recall for such a young puppy. Very smart! She is going to be a great addition to an active family who loves to be outside. Viv will probably want a family with a lot of humans of all sizes, she has so much love to give. Hopefully a family with no peanut allergies because peanut butter is her favourite thing. Then again so are apples, carrots, sweat peas….. you get the picture.
Applications for this girl can be found on our website here.