Ty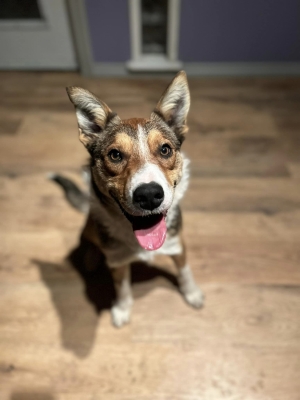 Name: Ty
Age: 1 year
Weight: 45 lbs
Spayed/neutered: Yes
Up to date on age appropriate vaccinations: Yes
Kennel trained: he tolerates the kennel when required but I t still a bit loud at first.
House trained: Yes
Best breed guess: Border Collie mix
Being fostered in: Weyburn
Adoption fee: $350
Good with dogs: Yes, can be timid at first.
Good with cats: Yes
Good with kids: Yes
Now that Ty has had some time to learn how to be in a house he is a very good guest. The kennel is still a touchy subject but is necessary when we leave him home, so we are still working hard on him becoming more comfortable in it. Ty loves car rides and willingly jumps in and gets comfy. He prefers to ride shotgun but he will also accept being demoted to a back seat co pilot with out much fuss.
Ty still comes on a little strong at times but is working really hard on remembering not to jump up on friends. Ty would love nothing more than to be someone's one and only (but he does share well too)! He would excel in a home where he gets to be a part of the action and wouldn't have to spend much time home alone.
Ty would be perfect for a person looking for a young energetic dog with out the work of getting a young puppy (house training, chewing, leash walking etc). Ty currently lives with two other dogs, two cats and a bunny and gets along great with all of them. Ty's human foster brother and cousins (ages 3-8) have put him through the paces and are making sure that he accepts and respects little humans as well. Ty is very responsive to verbal commands and wants to make his people happy all the time.
Ty will need a little extra time and love when it comes to settling into his forever home but I promise the little love bug is worth it in the end. Applications for Ty can be found here.