Snow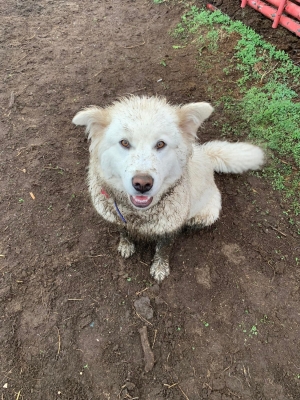 Name: Snow
Age: 11 months
Weight: 40kg
Spayed/neutered: Will be spayed on July 19, 2022
Up to date on age appropriate vaccinations: Yes
Kennel trained: No. She has had free range on a farm
House trained: Yes but spends majority of time outside
Best breed guess: Pyrenees cross but she looks like a Samoyed
Being fostered in: Farm near Weyburn
Adoption fee: $350
Good with dogs: Yes! She loves dogs of all ages and sizes.
Good with cats: Yes. The farm she is on has many dog friendly cats. She may chase if the cat runs
Good with kids: Yes though sometimes forgets how big she is.
Snow was adopted through PSDR in February 2022 as a 6 month old puppy. She is dearly loved by her family but she has started attacking the sheep on the property. She was initially found running in a pack as a stray and some of that mentality never goes away. Though she can not be trusted with small livestock she is a great with people and dogs. She shared her home with many other foster pups and was always up for a game of tag or wrestle. Snow always exudes happiness and a joy to be alive. She has a sense of humour too, always sneaking gloves, hats, shirts, etc out of the shop to decorate the lawn. Snow would make a great acreage dog as she is very loyal to her people and never wants to stray far or a great city loving dog too. Again, she can not go to a home with small livestock.
The decision for Snow to be relinquished was a difficult one, but we know there is a home better suited for Snow at this time.
Snow is available for adoption July 22 but we are currently accepting applications now. Applications can be found on our website here.