Rooby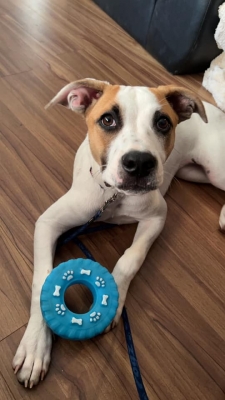 Name: Rooby
Age: 6 months
Weight: 36lbs
Spayed/neutered: yes
Up to date on age appropriate vaccinations: Yes
Kennel trained: yes
House trained: yes but still a puppy so needs to be watched when not in her kennel
Best breed guess: staffy cross
Being fostered in: Weyburn Sk
Adoption fee: $350
Good with dogs: needs slow introductions and lots of play breaks to calm down
Good with cats: yes
Good with kids: yes but is still quite young and excitable.
Rooby is a very sweet and smart puppy. She loves people and just wants to play, snuggle and hang out. Rooby is a tad shy and unsure so she does require slow introductions to other dogs. Once she is comfortable she loves to wrestle and play tug. We are currently keeping play sessions short as she does get over stimulated and doesn't know when to take a break.
Rooby is fairly new to house life so we are working really hard on learning how we should behave in the house. She is very smart and is catching onto everything very quickly.
Applications for Rooby can be found on our website here.