Pepper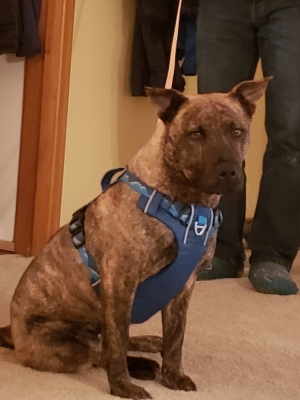 **Applications for Pepper are now closed**
Name: Pepper
Age: approximately 1 year
Weight: 20kg/ 45 lbs
Spayed: scheduled for April 30th
Up to date on age appropriate vaccinations – Yes
Kennel Trained: Yes
House Trained: Yes
Best breed guess: Mixed ( Boxer/Shepherd/ Pit Bull)
Being fostered in Regina
Adoption fee is $350
Good with dogs: friendly toward other dogs so far. She has shown signs to be jealous when we give attention to other dogs in her presence and will bark at other dogs although has shown no signs of aggression.
Good with cats: Gets along fine with her 3 year old fur sibling, tries to play with him and chase him
Good with kids: has been fine with brief interactions with kids so far, has not had a lot of exposure to young children.
Pepper is a very sweet and chill dog. She loves belly rubs, playing tug and cuddle time. She really just wants to hang out where her people are and has been great just hanging out by her foster mom when she is working from home. She likes to go for walks and doesn't pull unless she sees a rabbit or squirrel. Despite her size, she is a very good jumper and will need to have a high fenced yard if she is outside by herself and there are squirrels around. She likes to go on adventure hikes and loves to go in the car any chance she gets. Pepper is social and friendly with everyone she has met so far. She gets along with other dogs although is still learning how to play and interact with them. She is smart and has learned to sit, laydown, spin and roll over. She is working on wait/stay but finding that one very challenging.
Pepper is available for adoption as of April 30th, but we are currently accepting applications now. Applications can be found on our website here.