Mouse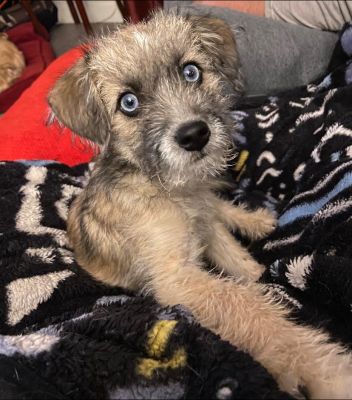 **We are no longer accepting applications for Moose**
Name: Mouse
Age: 4 months
Weight: 6lbs
Spayed/neutered: Not yet
Up to date on age appropriate vaccinations: Yes
Kennel trained: Yes
House trained: Working on it
Best breed guess: Terrier mix
Being fostered in: Regina
Adoption fee: $350 ($100 refund once spay/neutered)
Good with dogs: Yes
Good with cats: Unknown
Good with kids: Unknown but would assume so!
Lil Mouse is the last of the parvo puppy litter to make it into our care! She is healthy, fully vaccinated, and ready to find a home of her own!!
She is a very sweet puppy who love snuggles, playing with toys, and annoying her older foster brothers! She is a typical puppy with lots of energy but it doesn't take much to tire her out! Then she's ready to snuggle up on the couch with you! She loves being loved on. Aside from being ridiculously cute and sweet.. Mouse is also fully kennel trained and doing really good with house training! She will be the perfect addition to any family.
Applications for Mouse can be found on our website here.