Luna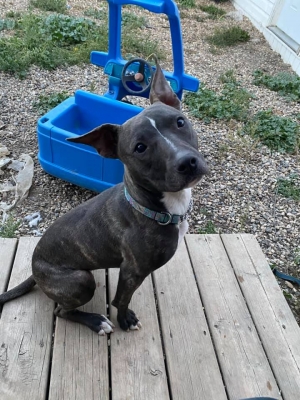 Name: Luna
Age: 9 months
Weight: 32lbs
Spayed/neutered: yes
Up to date on age appropriate vaccinations: yes
Kennel trained: yes
House trained: yes
Best breed guess: bull terrier x
Being fostered in: Weyburn Sk
Adoption fee: $350
Good with dogs: needs proper introductions
Good with cats: requires supervision and a cat with dog smarts
Good with kids: yes but does get excited with running and playing.
Luna is a young dog that grew up fending for herself. She is very cautious and skeptical of new people, dogs, and environments. Her response to fear is to pretend she is tough and hope no one calls her bluff. With the proper introductions and training she has made lots of friends with her foster brothers and other dogs at work. Luna will need a family dedicated to helping her over come these fears and continue on with her training.
Luna is energetic but also loves to cuddle on the dog bed and hang out! Luna is working very hard on remembering to be friends with her foster cat brothers and not pester them too much. She loves to run and play in the yard but does get bored and try to dig sometimes.
Applications for Luna can be found on our website here.