Luke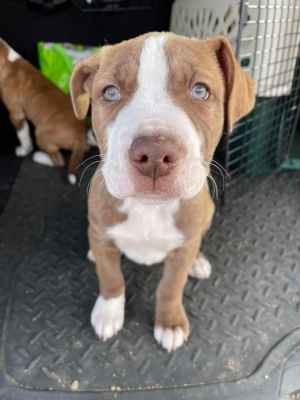 Name: Luke
Age: 9.5 weeks old (Sept 16/21)
Weight: 15 lbs
Spayed/Neutered: too young
Up-to-date on age appropriate vaccinations: yes
Kennel trained: almost there
House trained: working on it
Best breed guess: Pitbull cross (Mom is a pitbull, Dad is mixed breed)
Being fostered in: Regina
Adoption fee: $350 ($100 refunded once proof of spay/neuter between 6-10 months of age)
Good with dogs: yes, he's being fostered with two big dogs
Good with cats: hasn't met but is friendly to all!
Good with kids: yes
Luke is being fostered with his brother Hardy. Luke is the more outgoing one of the two boys and is always ensuring his brother doesn't miss out on any fun! He is doing great in the kennel, only waking up once a night to go outside and is quickly catching on to potty training. Luke is very affectionate and loves to be picked up and cuddled as much as possible.
Luke has a heart murmur (grade 3). We can provide more information about this one an application is submitted.
Applications for Luke can be found on our website here.