Lizzy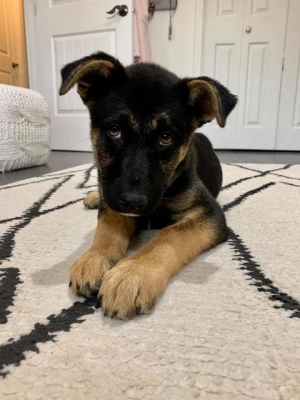 Name: Lizzy
Age: ~ 3 months
Weight: 17 lbs
Spayed/neutered: Not yet
Up to date on age appropriate vaccinations: Yes
Kennel trained: Yes
House trained: Yes
Best breed guess: German Shepherd X
Being fostered in: Weyburn, SK
Adoption fee: $350 ($100 refund once proof of spay between 6-10 months)
Good with dogs: Yes
Good with cats: Hasn't had any contact.
Good with kids: Unknown, but no reason to believe she wouldn't be a great companion for children.
Lizzy is a people pleaser. From the get-go and without any instruction, Lizzy would run up to her fosters, sit, and adorably tilt her head as if waiting patiently to know what she should do next.
Lizzy wants to be near her humans as much as possible and her all-time favourite hobby includes cuddles on the couch. It's not surprising to wake up and find her nestled up on your shoulder, as close as she can get.
Lizzy is house trained and sleeps in her kennel all night without a sound. As soon as she hears a food bag crinkling she runs directly into her kennel, as she knows that is where she needs to be to get the goods. You will sometimes hear her in the kennel when she wants to announce that her treat is finished and she would like some more, but she is quick to settle.
You also hear Lizzy's bark when she is excited and wanting to play with her foster sister or her humans. She loves to play and tease her foster sister (4 year old female golden retriever) and tries her best to cuddle up close whenever she can.
Lizzy enjoys and requires lots of interaction with her humans. She likes to play fetch and quickly mastered the "come" and "sit" command. She has done well with some leash training around the yard.
It'd be tough to find a more charming puppy. We think this sweet and intelligent pup will make an amazing addition to someone's household.
Lizzy is available for adoption Oct 3, but we are currently accepting applications now. Applications can be found on our website here.