Hazel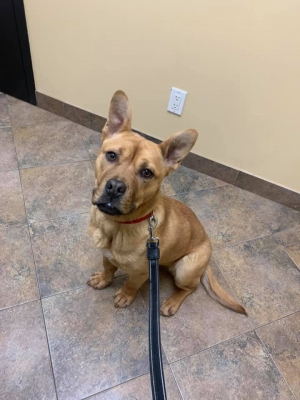 **Applications for Hazel are now closed!**
Name: Hazel
Age: Approximately 9 months
Weight: 40lbs
Spayed/Neutered: Booked for April 27, 2021
Up to date on appropriate vaccines: Yes
Kennel Trained: Yes
House Trained: Yes
Best breed guess: Pitbull/ Frenchie mix
Being fostered in: Regina
Adoption Fee: $350
Good with Dogs: Yes
Good with Cats: Unknown
Good with Kids: Unknown, she is quite calm and I'm sure she would be great around kids.
Hazel is such a sweet girl who came into the rescue as a very hungry pup who didn't really seem to want to come inside or be in a kennel. We used that hunger and food motivation to help with some training and she now is fully kennel and house trained. Hazel is such a loving girl and will always greet you with some kisses when you get home. She loves to play and have snuggle time with her foster sister or her humans. She did not know what to do with toys to begin with but now she'll be the first to bring you a rope for a quick game of tug-of-war. When she is not playing with her toys, she likes to hoard them in her bed to protect them from her foster sister stealing them. She has been quite easy to train as she is very food motivated and I'm sure training will go smoothly with this little one moving forward. Hazel does quite well on a leash and loves to go for walks, although she does get distracted sometimes and wants to take you on a little journey, just redirecting her focus will get her back on the task at hand. She loves to run around outside, even in a storm I had a hard time convincing her to come in without a treat in hand. This girl would be perfect for a family who likes to be outdoors as well as have some time to relax and snuggle with her in the evenings. Hazel is available on April 30, 2021 but we are currently accepting applications/ Applications can be found on our website here.