Harley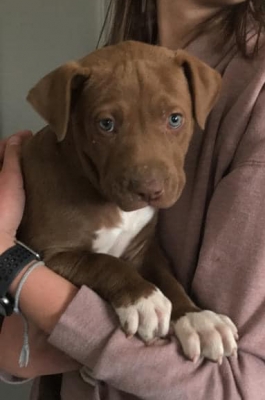 Name: Harley
Age: 8 weeks
Weight: 5.7kg (12.5 lbs)
Spayed/neutered: no
Up to date on age appropriate vaccinations: yes
Kennel trained: in progress
House trained: in progress
Best breed guess: Pit Bull / Mix
Being fostered in: Strasbourg SK
Adoption fee: $350 ($100 refund once proof of spay/neuter between 6-10 months of age)
Good with dogs: yes
Good with cats: yes
Good with kids: yes
Hey, I'm Harley!
I am about 8 weeks old and the vet tells me I am a pitty cross. I love to play with other dogs and cats (when they will play with me). I am learning to sleep in my kennel and to go to the bathroom outside. I have not mastered it yet but I am definitely trying.
I love kids! I love to cuddle and curl up in a nice warm blanket too. I am very curious about the cows and horses in my foster home. I like to give the horses kisses when my foster mom is around. I do great in the car. I prefer to cuddle with you on the seat but I am okay in the kennel too. I have a BIG appetite! I love to eat and eat and eat. I have a favourite toy I took from my foster sister and I do grumble when she tries to take it away. I don't bite I just run away.
Harley is an amazing puppy and is going to make a family very happy ❤️
Harley is available for adoption Monday October 26, 2020 but we are currently accepting applications now. Applications can be found on our website here.