Bubblegum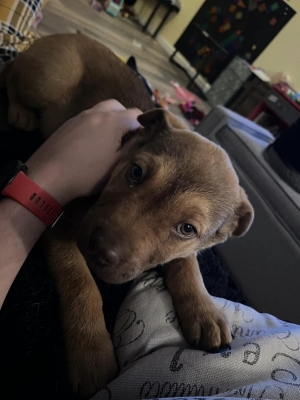 Name: Bubblegum
Birthday: August 25
Weight: 4.46kg
Spayed/neutered: Not old enough
Up to date on age appropriate vaccinations: yes, due for next Nov. 14-21
Kennel trained: Yes, does amazing in Kennel and sleeps through the night, will even go chill in there on his own with the door open.
House trained: working on it
Best breed guess: Mixed Breed
Being fostered in: Weyburn
Adoption fee: $350 ($100 refund once neutered)
Good with dogs: yes
Good with cats: unknown, no reason to believe he wouldn't be he is super chill
Good with kids: yes, manhandled by 3 daily.
Bubblegum is the most chill puppy we've had so far, don't get me wrong he absolutely loves to play but he is very happy to lay with you watching a movie or rest in your arms and is perfectly content to stay there for long periods of time. Did you say hugs? He absolutely loves hugs! Sitting still for a photograph though? Not his strong suit. When treats come out he is very very excited.
Applications can be found on our website here.