Batman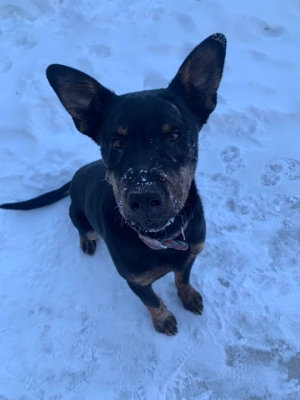 Name: Batman
Sex: Male
DOB/Age : 12 months
Weight: 40lbs
Spayed/neutered: Neuter date set for Jan 21
Up to date on age appropriate vaccinations: Received first set of shots Jan 12.
Kennel trained: Working on it
House trained: Yes. He will whine, and go paw at the door when he needs out.
Best breed guess: Rotti cross
Being fostered in:Weyburn
Adoption fee: $350
Good with dogs: Yes. But needs lots of time to adjust to a new dog, if he feels challenged he will growl.
Good with cats:Yes. He is curious but shows no aggression to them.
Good with kids: Yes. But is still mouthy so still needs to learn his manners
Batman is learning recall, and walks on a leash fairly nice. He's still got the puppy attitude and very playful. He wants to be loved and petted.
Batman lost his owner and was set out to be on his own, had a run in with a porcupine before being taken into the rescue. Batman has smarts and is a thinker. He enjoys learning new things and going on walks.
Batman is available for adoption on Jan 24. But we are accepting applications now. Applications can be found on our website here.