Reggie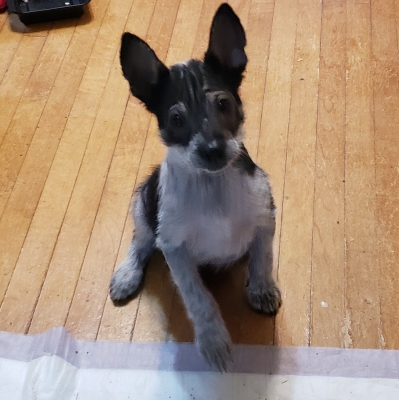 Age: July 27, 2019 (10 weeks)
Weight: 4.72kgs (10.4lbs)
Spayed/neutered: Too young
Up to date on age appropriate Vaccinations: Yes
Kennel trained: Working on it
House trained: Working on it
Best breed guess: Blue Heeler X
Being fostered in: Regina
Adoption fee: $300 with $100 refund upon proof of sterilization
Good with dogs: Yes
Good with cats: Yes
Good with kids: Yes
Available for adoption: October 15th– depending on skin infection being cleared up.
Reggie is the smallest of his litter. Reggie was found by the side of the road on September 20th along with his 2 brothers. They are so happy someone found them as they would not have lasted much longer in the state they were in. Reggie did not measure a temperature at the vet clinic when found and had to be warmed up. They were very emaciated, and were suffering from a skin infection. Reggie weighed 1.8kgs (4.0lbs) and as of October 3rdis up to 4.72kgs (10.4lbs). Reggie and his siblings are on a raw diet and currently receive daily coconut oil massages. They have all had their first vaccinations, been dewormed, microchipped, and had treatments of Revolution.
Reggie loves laying on the heating pad or snuggling. He will need a sweater or coat for a while when going outside in the cold weather. They are being fostered with another dog as well as with kittens/cats and get along with everyone. They like to play with both the other dog as well as the kittens/cats. All 3 follow their foster mom around the house like little shadows. Applications for Reggie can be found here.