Peppa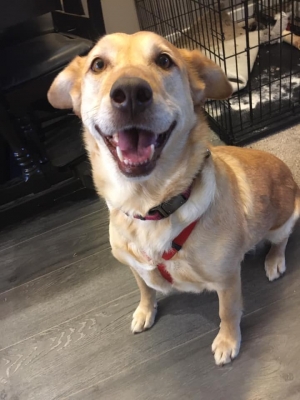 Name: Peppa
Age: approx. 6 years
Weight: 70lbs (We are on a diet)
Spayed/neutered: July 6th
Up to date on age appropriate vaccines: Yes, all boosters are complete
Kennel trained: Yes, she goes into her kennel for food and bedtime. Sometimes she needs some tempting with treats.
House trained: Yes
Best breed guess: Lab Mix
Being fostered in: Regina
Adoption fee: $250
Good with dogs: Decent
Good with cats: Unknown
Good with kids: She's very shy around kids.
Available for adoption: July 15
Peppa is such a sweet gal, she has so much innocence and wants to please everyone. Her eyes are like pools of honey, she smiles all the time, and waddles around with her big belly.
We are currently working on a diet and trying to slim her down a bit. She's cuddly and stays by your side once she's connected with you, so you'll never feel lonely.
She is very timid when meeting new people or going new places but she is very brave. Peppa would do good with a family with older or no children and a low active dog. She is quite timid of men, but she's slowly learning they are not so bad. She's learning to enjoy household life and being a dog.
Peppas forever home and family will have to be very patient with her and allow her lots of time to adjust. This beautiful girl is such a sweetheart and deserves the perfect family that is willing to take the time for her to become a part of their family.
Peppa knows sit, lay down, stay (partially), come and down. We have progressed from wearing only a harness to now a collar and a leash. We are still working on walking with a leash, this is very intimidating but she will walk by your side all day.
Peppas application process will be different than others due to her shyness so slow intros are a must. Peppa will need to meet the family multiple time throughout the process to build the relationship. Applications for Peppa can be found here.