Koda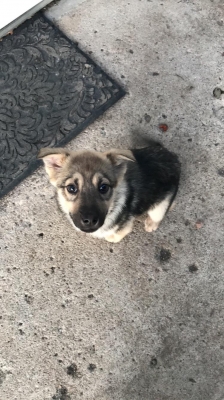 Name: Koda
Age: 9 weeks
Weight: 4.4 kgs
Spayed/neutered: too young
Up to date on age appropriate vaccinations: set to receive Nov. 29
Kennel trained: working on it
House trained: almost
Best breed guess: German Shepard Cross
Being fostered in: McLean, SK
Adoption fee: $300 with $100 refund upon proof of sterilization
Good with dogs: yes
Good with cats: yes
Good with kids: very
Koda is available for adoption December 9th but we are currently accepting applications now. Applications can be found here.
Having over come his virus, Koda has grown into a loving compassionate pup. He plays hide and seek with the children; gently teases the cats and snuggles with his foster moms' dog.
Koda's foster mom says Koda is very intelligent. He catches on to behaviour cues and tricks very quickly. He comes when called, sits and shakes a paw. We are working on not jumping up on people and sitting calmly. He loves his toys and is content to flip them into the air and chase them all on his own. He is becoming more and more independent as he grows stronger. He has so much love and laughter to share with his furever home.