Hayes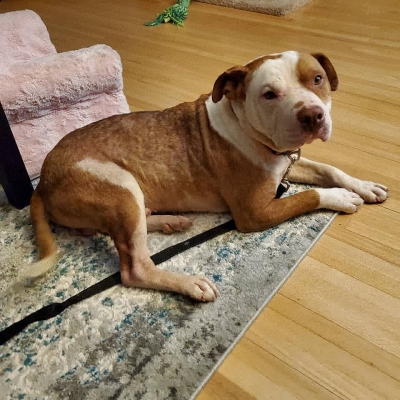 Age: 1 year (male)
Weight: 50 lbs
Spayed/neutered: Yes
Up to date on age appropriate Vaccinations: Yes
Kennel trained: Working on it and Hayes is showing great progress. Hayes has separation anxiety and needs to build up his confidence when kenneled in a new place.
House trained: Yes
Best breed guess: Pitbull Mix
Being fostered in: Regina
Adoption fee: $250
Good with dogs: Yes, with slow introductions to new dogs.
Good with cats: Yes, they sometimes catch his interest and he wants to play with them but once told to leave them alone or if the cats make it clear they don't want to play he listens well.
Good with kids: Yes, his foster family has a 3 year old girl
Available for adoption: February 16, 2020
Hayes is a very happy boy who loves to be with his people. He is great with kids. He does get a little bouncy when he is excited but he calms down quick. He is currently being fostered with two cats. He did really great with them right from the start, he was curious but always gave them their personal space and redirects easily when told to leave them alone. He has so far gotten along well with the few different dogs that he has met and was brought into rescue with two other dogs after they were all found roaming together. Slow introductions are still recommended to be safe. Hayes is also great on leash.
Hayes came in suffering from mange. Thankfully this type of mange is NOT contagious to other dogs. He has completed all of his treatments now but will need to be checked in a few months to make sure everything has cleared up. With the exception of maybe a few baths, he shouldn't require any special care.
Hayes has progressed well in his kennel training since coming into rescue. He is good in his kennel when he can see and hear that people are around. He suffers from separation anxiety and gets very stressed out and panics when left alone in his kennel. To cope with this, Hayes has been placed on an anti-anxiety medication which has definitely taken the edge off but has not solved the problem completely. Hayes' ideal home will need to be able to take the time to slowly ease him into being left alone in a kennel in a new location or have an alternative to keep him safe when he is left alone. A home with another dog may also help him settle in better.
Applications for Hayes can be found here.