Ayo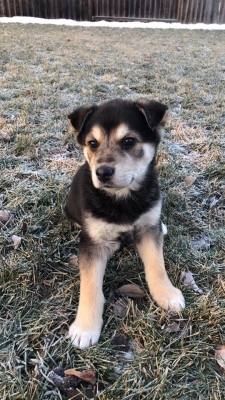 Gender: Female
Age: 7 weeks (September 25, 2019)
Weight: 7.9lbs
Spayed/neutered: Too young
Up to date on age appropriate Vaccinations: Yes
Kennel trained: Working on it
House trained: Working on it
Best breed guess: Husky/Rotti X
Being fostered in: Regina
Adoption fee: $300 with $100 refund upon proof of sterilization
Good with dogs: Yes
Good with cats: Yes
Good with kids: Yes
Available for adoption: November 29, 2019
Ayo is being fostered with other dogs as well as cats and gets along with everyone. She likes to play catch me if you can when outside. She is a confident pup and very social, loves cuddles and kisses.
All pups in the litter have been dewormed, treated for parasites, vaccinated and microchipped. They are being fed raw, puppy kibble and can food. Currently they are working on recall, leash and harness/collar training. Their mom is a 45lb husky X, dad unkown.
Applications can be found here. To see available dogs follow us on Facebook at Prairie Sky Dog Rescue Inc.