Benito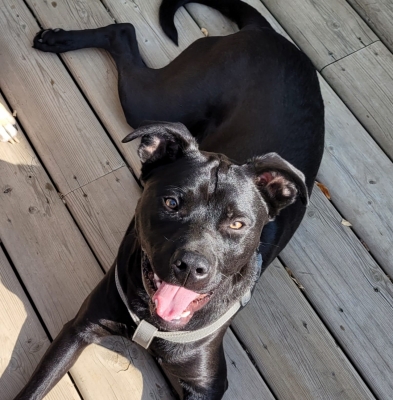 Name: Benito AKA Cruz
Sex: Male
DOB: January 17, 2022
Weight: 55lbs
Spayed/neutered: yes
Up to date on age appropriate vaccinations
Kennel trained: yes
House trained: Yes
Best breed guess: Pitbull /lab
Being fostered in:Weyburn
Adoption fee: $350
Good with dogs: no
Good with cats:no.
Good with kids: yes. Older
Benito(aka Cruz) is a loving boy who quickly bonds with his humans, he needs a strong, experienced leader, he thrives in a world where rules and boundaries exist and are consistent.
Cruz has had a few unpleasant encounters with smaller dogs and dogs that were untrained. This has led him to be uncertain around dogs. He is currently being fostered with 2 larger dogs and is doing well. However this took 4 solid days of zero contact.
He is amazing on leash and has worked really hard to get to this space.
Cruz is quirky, funny, loving and incredibly loyal to his people. His adopter needs to understand the bully breed to help him continue all the success he is having.
He is highly food motivated and loves affection.
A note from Cruz
Howdy people, my name was Benito but my foster mom calls me Cruz. She says it's because I'm cruzing along, she says I'm a funny boy and she loves to play fetch. It's one of my favorite games. Oh oh and I love, love, love water.
We are working on house manners. Things like counter surfing apparently isn't allowed. Which is wierd, I see her take stuff off counters all the time.
I love going for walks with her and my foster dogs, exploring is awesome.
I know I have a few quirks, but I want you to know I am sweet and loving and really just want a place to call home. If you think you can be that. Please fill out an application.
We are currently taking applications and Benito /cruzwill be Available Sept 24th.
Applications can be found on our website here.