Roscoe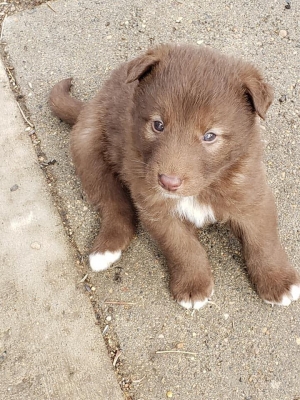 Gender: Male
Age: 6 weeks Birthday March 1, 2019
Weight: 2.3 kg/5.1 lbs
Spayed/neutered: Too young
Up to date on age appropriate Vaccinations: Yes
Kennel trained: Working on it
House trained: Working on it
Best breed guess: Shepherd/Husky X
Being fostered in: Regina
Adoption fee: $300 with $100 refund upon proof of sterilization
Good with dogs: Yes
Good with cats: Yes
Good with kids: Yes
Available for adoption: May 1, 2019
Litter mates, Roscoe, Bly, Roma, Marvel, Shazam, Poppins and Matrix came into the care of Prairie Sky Dog Rescue at 6 weeks of age. They are all fluffy, playful pups. They have been dewormed and treated for parasites. They will receive their first vaccinations and be microchipped before going to their forever homes.
Roscoe loves people. He comes up to his foster mom's legs and asks for cuddles. He likes to follow her around and help with things. He likes to wrestle with his siblings but also likes his alone time in a kennel by himself. Currently the pups are being fed raw, can puppy food mixed with kibble and milk and raw bones. The pups are being fostered in a home with another dog as well as multiple cats. They would be great with children. They are all great cuddlers.
Application for Roscoe can be found at here.