Pride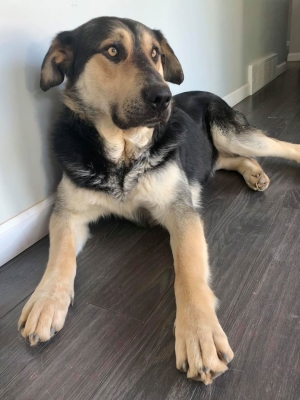 Name: Pride
Age: ~2 years
Weight: 85 lbs.
Spayed/neutered: Yes
Up to date on age appropriate vaccinations: Yes
Kennel trained: Needs encouragement (tasty treat) to go in.
House trained: Yes
Best breed guess: Husky/German Shepherd
Being fostered in: Weyburn, SK
Adoption fee: $250
Good with dogs: Yes. His foster sister was a 4-year-old, fixed, female, golden retriever and they get along well.
Good with cats: No
Good with kids: Unknown, but no reason to believe that he wouldn't be a great companion for children.
Pride is loyal, gentle and intelligent. While we think he has spent the majority of his life as an independent nomad, he knows how to behave perfectly inside a home, which is a testament to his intelligence and adaptability.
Pride loves to be close to his humans, but also fairs well chilling on his own. For the most part, Pride is very much a laid back and easy going dog. Every once in a while his curiosity gets the best of him and he tries to escape if he can find a way (the dog can dig and jump) but once he gets comfortable and burns some energy his tendency to want to escape is greatly reduced. It has been an adjustment for him to be in one place this long. We hope that once he is neutered and with his new humans, his desire to leave the yard will fade.
Pride sometimes forgets that he's a big guy at 85lbs, so he needs people who will be patient with coaching him on that. He loves to play and go for bike rides, but he is still learning what the heck a leash is. Pride is apprehensive of the kennel and doesn't always want to go in, but once he is in he is fairly settled. Sometimes he thinks it is fun to chase small animals and this is the only time you might hear Pride's voice besides when he does his cute husky-like talk for a head or belly scratch. Pride hasn't done well around cats so a home with no cats would be best for him.
Pride would love someone or a family to call his own. The pup has charmed every human that has had the pleasure of meeting him. Pride is available for adoption June 20th but we are currently accepting applications now. Applications can be found here.