Junebug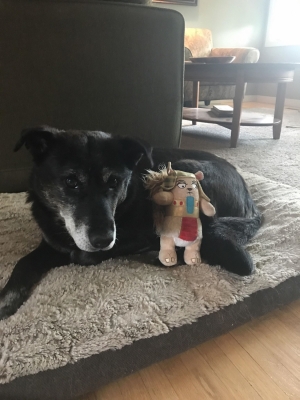 Name: Junebug
Age:~8
Weight: 53 lbs
Spayed/neutered: Not yet, but booked in for June 25.
Up to date on age appropriate vaccinations: Yes
Kennel trained: Working on it, don't anticipate any problems
House trained: Yes
Best breed guess: Collie mix
Being fostered in: Regina
Adoption fee: $250
Good with dogs: Yes, just needs the other dog to give her space until she's ready to play. Will not instigate problems but will set boundaries with dogs that are too forward. Plays with our dog all the time now, even sleeps on the couch with him.
Good with cats: Unknown. If her attitude towards cats is anything like dogs, it'll be fine.
Good with kids: Unknown but likely considering her sweetness towards humans.
**Junebug has a lump on her mammary gland that will be removed at the same time as her spay. It will then be sent away for further testing**
Junebug is an extremely sweet girl with just the right amount of sass. She is fairly timid and will require some settling-in time. She was nice to humans from the get-go but set polite boundaries with our male dog until 5 days later when they started wrestling out back. They are best friends now. Isn't a huge fan of hardwood floors but gets more confident on them every day. She is learning to walk on a leash but accepts being tied up with a leash to prevent her leaving the yard.
She's fairly easy-going and loves to be outside. She could easily hang outside for an entire day (except if it's windy as she's not big on wind). She is happy to play outside with her foster brother or just hang out inside as well. Junebug is independent enough to sleep on her own through the night out in the living room on her foster brother's bed; this leads us to believe she would have no problem being left alone at home.
We have thoroughly enjoyed having Junebug in our home and watching her get more and more comfortable with home life every day. She will be a lovely addition to any home, but would do best in a slower, quieter environment, at least until she settles in! After that, anything goes!
Junebug is available for adoption once she is healed from her spay and we have the results back from her lump removal.
We are currently accepting applications now. Applications can be found on our website here.