Boss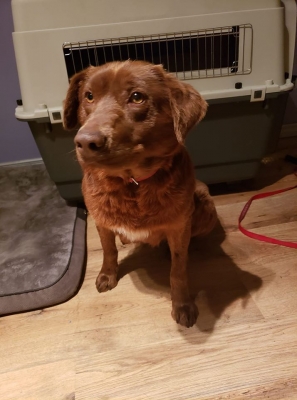 Name: Boss
Age: 2 years
Weight: 58lbs
Spayed/neutered: will be soon!
Up to date on age appropriate vaccinations: Needs a booster in a few weeks.
Kennel trained: needs some encouragement to go in.
House trained: yes
Best breed guess: Collie x lab
Being fostered in: Weyburn
Adoption fee: $250
Good with dogs: yes
Good with cats: yes
Good with kids: yes
Boss is still learning about what it's like to live in a house. He is most comfortable outside but is slowly growing more comfortable with dog beds and house noises.
Boss has some old injuries including a fractured foot but they don't seem to bother him anymore. He is also receiving some skin treatments and will have a few teeth removed during his neuter. Boss loves to be outside and loves to be brushed. He is still a little uncertain about how to play with toys or do regular dog things like sit, or lay down. He isn't convinced that car rides are a good thing but once he is in and settled he doesn't make a peep. What Boss lacks in knowledge he makes up for by just being totally easy going and so darn handsome!
Boss would love someone or a family of someones to love and call his own. Boss gets along well with his foster brothers (dogs, cats, and a 4 year old child) but would also adjust to being an only child.
Boss is available for adoption June 15th but we are currently accepting applications now. Applications can be found on our website here.