Autumn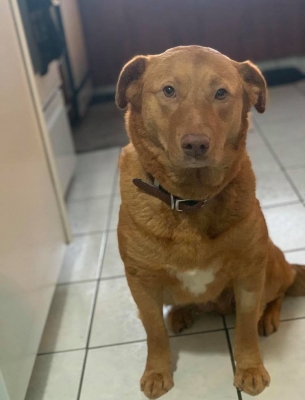 Name: Autumn
Age: Unknown
Weight: 51 lbs
Spayed/neutered: Yes. Spayed
Up to date on age appropriate vaccinations: Yes
Kennel trained: Yes, sometimes needs a bribe to go in, but is great once in.
House trained: Yes
Best breed guess: Retriever Mix
Being fostered in: Regina
Adoption fee: $250
Good with dogs: Yes, has gotten along great with dogs in our home as well as at the dog park
Good with cats: Unsure
Good with kids: Yes. Very gentle around children and just wants them to pet her.
Available February 7, 2020 but currently accepting applications now
Autumn is a very loveable dog. All she ever wants to do is cuddle and have her belly rubbed. She has lots of fun at the dog park and loves to play with her foster sister, although she is a lazy pup most of the time. She gets along well with all other dogs we have encountered. She is so kind and gentle and has had great experiences with children so far. She is very smart and catches on to commands quite quickly. She has realized her name and her recall is quite good. Autumn loves to go on walks but will always take the opportunity to roll on to her back mid-walk for some more belly rubs. Autumn is a very sweet girl who loves her people and gets so excited when they are home from work. She is looking for a family who can give her lots of snuggles and belly rubs as she will make sure you won't get away without giving her some love. She will make some family so very happy to be a part of their home. If you are looking for the sweetest little snuggle buddy, Autumn will be available for adoption February 7, 2020. Applications are found here.